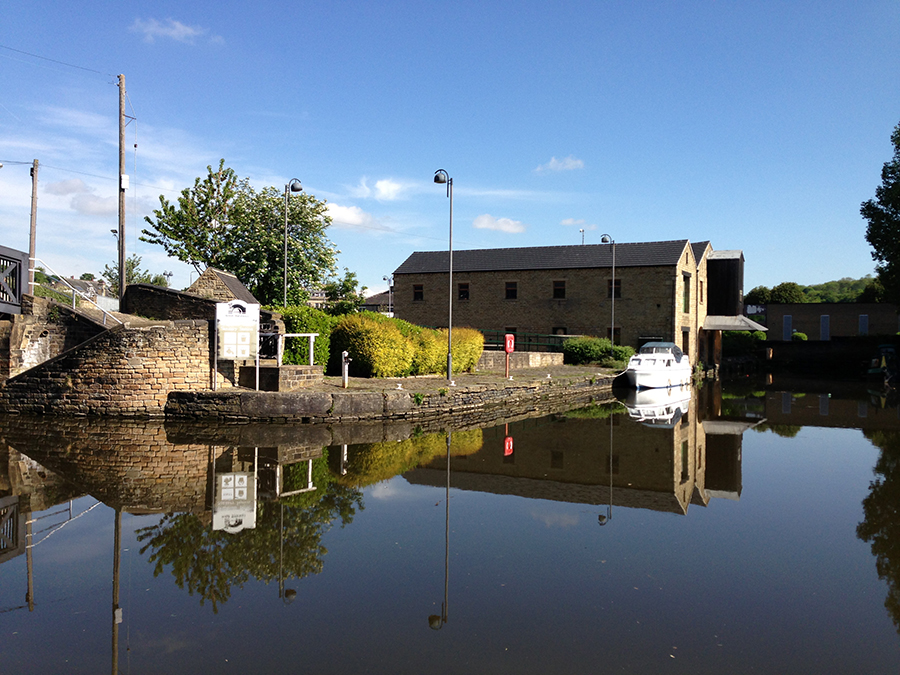 In short:
Project start date March 2014.
First office unit let by July 2014.
Fully let by December 2014.
Restored from a derelict building to a multi-use property with approximately 10 different businesses with a total of 50 employees.
History
The Boathouse was originally a silk mill built by James and Henry Noble, which dates back to the 1800s. Covering approximately 7,500square feet, the building has a picturesque canalside location in central Brighouse, West Yorkshire. Over the years, The Boathouse had lost many of its original features with the main emphasis placed on practicality for a variety of businesses including a working boat builder, a fabrication shop and light industrial work.
When Henderson Property acquired the building in 2014, it was a derelict industrial premise and had been vacant for about two years.
The Boathouse's canalside location meant that special consideration had to be given to any structural works taking place near the canal wall. In addition, special measures had been put in place around the original slipway and a large 'lean to' tin roof on the building required special attention.
Henderson Property developed plans to completely refurbish the premises both internally and externally, revitalising the building into a mixed use development with offices, apartments and a restaurant bar. The designs, procurement of materials and sub-contractors and project management were all handled in-house.
What we did
There was an abundance of work that had to be undertaken in order to transform the old mill and bring it back to life. The roof was stripped back and completely re-done while new windows were fitted throughout the building to allow plenty of light inside. The warehouse doors were also replaced with modern glass frontages.
We created an extension on one side of the building to replace the previously unsound 'lean to'tin roof which resulted in an increase of floor space, taking it from 7,500 to 8,000 square feet.
Close attention to detail was paid to ensure the period features of the mill were restored as faithfully as possible. The stone walls and timber trusses were completely sandblasted to reveal the original stonework, features and queen's trusses before being painted magnolia.
Interior arches that had previously been blocked up in various forms (including redbrick, timber framed/upvc windows and breeze-block) were unblocked to reveal the original designs and position of the former warehouse doors.
We also uncovered hundreds of original hexagonal wooden floor blocks which we brought back to life as a bar front for the restaurant which had already signed up to the space. With this in mind we also created a new kitchen, bar area and toilet for the restaurant space as well as a new insulated floor and outdoor seating area overlooking the canal.
The first floor of the building was divided into office space, creating approximately eight offices from 200 to 1000 square feet each. Each space features the original oak flooring which we fully restored as well as the latest CAT II lighting, new door entry systems and networking points.
All of the work was completed using local suppliers where possible from builders, plumbers, joiners, plastering companies, steelwork and fabrication companies to equipment and plant hire companies. Henderson Property also liaised closely with the Canals and Rivers Trust throughout the project.
The results
Despite the project start date of March 2014, the first office was let only four months later and by December 2014, The Boathouse was fully let. A mix of local business as well as satellite offices (with HO London) comprise the current tenants and include recruitment companies, IFAs, project managers, restaurants, telecommunications, hair salons, steelwork designers and car finance.